Mezza II Residences - LOCATION
Mezza II Residences is strategically located in Dona Imelda, Quezon City along Aurora Boulevard corner, along Guirayan Street at Brgy. Near the residences, there are educational institutions such as the Central Colleges of Manila and other top universities within the University Belt. The apartment is also few meters away from the SM Sta. Mesa; hence, one can easily do all his or her shopping needs. It is also easy to access LRT 2 V. Mapa Station. Hence, it is easy to access the relevant areas in Manila. Near the premises, there are also many reliable hospitals such as the UERM Memorial Medical Center where people are well attended to by the nurses and doctors. There are also churches meters away from the apartment. One of the modern churches in the area is the St. Jude Church. All the residents easily find accessibility and convenience just in one place at Mezza II Residences.

Located right beside Mezza Residences, Mezza II Residences is very ideal for young professionals and students. Topped with five-star amenities such as swimming pools, function rooms, and a Sky Lounge with a breath-taking view of Metro Manila. With sweeping panoramic view of Metro Manila, Mezza II Residences offers studio, one-bedroom and two-bedroom units fitted with picture windows and high ceilings, giving owners a bright and spacious home.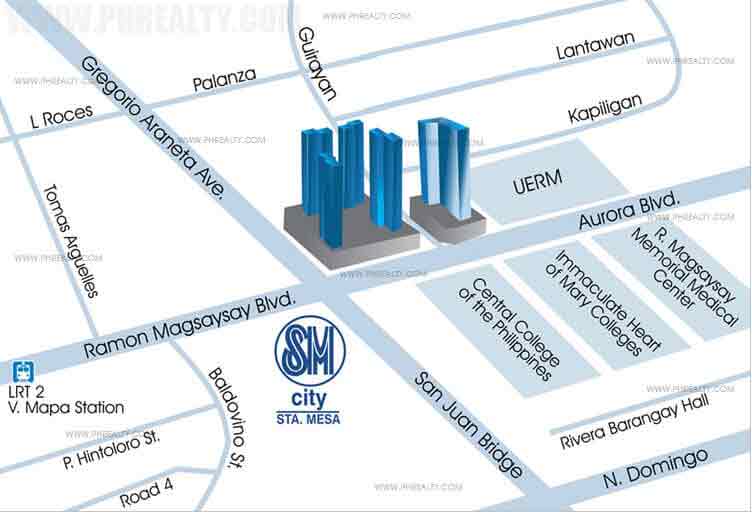 Amenities Outside to Make You Feel You Are Living in a Resort
There is nothing more amazing than coming home from work, not having to take care of your yard, while also being able to enjoy every peaceful minute of it. There is both an adult pool and a kiddie pool in the amenity area. You can enjoy splashing around with your kids on a hot day, or you can enjoy relaxing or swimming in the adult pool without having to worry about being splashed. You can either relax by floating around the pool or you can exercise by doing laps and swimming around. No matter what you like to do at the pool, you will be able to find a spot to enjoy. There are also decks filled with comfy lounge chairs for you to get some sun. There is a playground for the children to enjoy running around with other kids. Enjoy your time with family and friends in the BBQ area or just walk or jog around the beautiful yard. You will notice all the landscaping that is maintained by the property management team. It is like having your own backyard that you don't have to work hard to make look nice. The amenities are also lit up at night so you can enjoy them when you get home from work or any time of day. You have private access to so many great features that will help you to relax and enjoy your life to the fullest. The Mezza 2 Residences can help you achieve the ultimate fulfillment in life. This is something you deserve!

Lots of Entertainment to Experience Near Your New Home
Some people enjoy living in a private and relaxing community, but also like being super close to entertainment and other things to do. Spending time with your family exploring and enjoying life is most important for making memories that will stick for years to come. The area of Quezon City has many malls with great name brand stores. Whether you are looking for clothes, toys, accessories, or sporting equipment, you will be able to find something you like. Looking for a present for someone? That is a perfect reason to visit the SM Santa Mesa that has tons of stores of every kind. Do you want to go out and celebrate an anniversary or birthday? You can find a restaurant desired by your guest of honor. Everyone will leave feeling happy and full. Hoping to catch your favorite artist at a concert or your favorite actor in their latest flick? Well, you're in luck! All these things are close by to where you will soon be living.

Great for the Business Professional Looking to Expand or Begin Their Career
Quezon City is located in a prime area that can be perfect for any business professional, whether you are looking to further your career or begin it. Both the Ortigas and Makati Business Centers are nearby and can be reached by taking the LRT2 train that is conveniently located a short distance from the Mezza 2 Residences. You won't have to worry about commuting through lots of traffic as the train is the fastest way to get to and from work. The malls and other businesses in the area also allow for opportunities to work or even start a new business. If you would like to open your own shop, salon, or restaurant, you can find the perfect place to bring in all the business.

Other Convenient Places in the Area
Public Services like schools and hospitals are conveniently located more or less than 1 kilometer away. The complex's location is on Aurora Boulevard and Araneta Avenue. Close by is the University of East Ramon Magsaysay Memorial Medical Center. If you are thinking about going into a career in medicine, you may want to look into going to this school. The best part is if you are living in the Mezza 2 Residences, you could walk to class. Whatever program you are looking to study, you can find one that fits your needs. There is also the Central College of the Philippines within walking distance, as well as a few other schools in the area. If you are just starting college, or looking to further your career, your education is just a few steps away – literally! Aside from colleges, if you have children or are planning to start a family, there are also public elementary, middle, and high schools in the area as well. You child or future child will get a great education in the area.
Hospitals are also important to be near. If anything were to happen, you can feel safe knowing that there is medical care nearby. The UERM Hospital is just .13 kilometers away. There is also the San Juan Medical Center, Unciano Paramedical General Hospital, and our Lady of Lourdes Hospital. All are no more than 1.4 kilometers away. These medical centers can help you in an emergency, or just assist you and your family in staying healthy. All that you need is right near your new home and easy to access.